Thruster Remaining Useful Life
STATE-OF-THE-ART PREDICTIVE MAINTENANCE SOLUTION FOR KONGSBERG THRUSTERS
KONGSBERG Remaining Useful Life (RUL) for thrusters predicts quantitative remaining useful life for thruster components, allowing better maintenance decision-making and therefore providing operators with peace of mind by lowering the risk of any unexpected issues.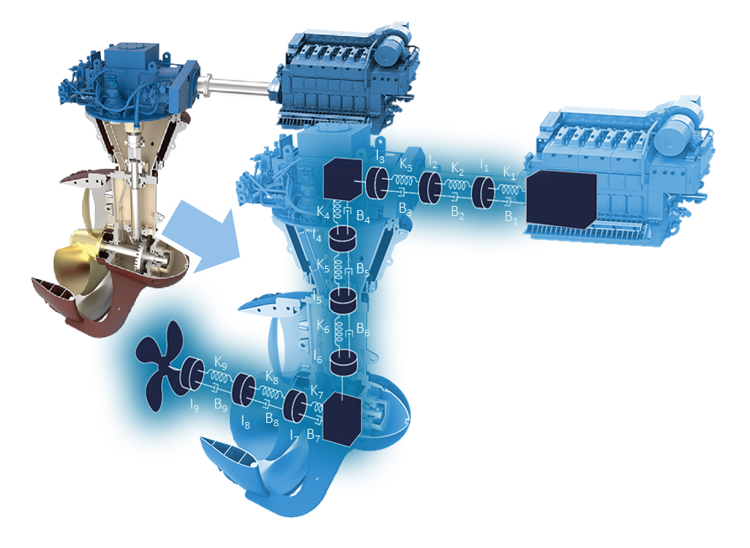 As digitalization is becoming an integral part of the shipping industry, more and more operators can benefit from its use. A proven technology product that aspires to move the maritime industry forward, is the Remaining Useful Life (RUL) concept for KONGSBERG azimuth thrusters. RUL provides a virtual model of a physical thruster, producing valuable insights from the data.
Product Main Features
Uses sensors to collect real-time data
Connected to a cloud-based system
A digital replica of a physical Kongsberg thruster unit
RUL is a digital replica of a physical Kongsberg thruster unit. By combining the physical and the virtual world, data is provided enabling the virtual thruster unit to exist in parallel to the physical thruster unit and can therefore be used for various purposes.
This digital representation provides the elements and the dynamics of how an azimuth thruster unit operates and lives throughout its life cycle. RUL basically links the physical and digital world. RUL uses sensors to collect real-time data to show the status, working condition, or position of the physical item. These components are connected to a cloud-based system that receives and analyzes all the data the sensors monitor.
Product Main Benefits
Optimised maintenance planning
Improved management of spare part stock
Extension of inspection and service intervals
Sustainable risk and safety management
Remote readiness
Service agreement
Extended Thruster Coverage availability
The technology then provides lessons learned, while opportunities are presented within the virtual environment. These opportunities can then be applied to the physical world. The use of a virtual model during thruster operation provides a great opportunity to visualize all important components, carry out analyses, and improve the operation on the thruster units structural and functional components.
Operators can plan for a more efficient inspection and maintenance. This can also lead to an extension of the thruster unit´s lifetime, as preventive measures will be taken in due time, to avoid damage.
RUL provides a tool for visualization of the azimuth thruster unit, qualification and analytics of operational data, optimization of thruster unit performance, improved internal and external communication, safe handling of increased levels of autonomy and safe decommissioning.