Low Voltage Switchgear
KONGSBERG design and build digital switchgear, motor control center and motor starters specifically for the harsh conditions of the marine market. Our well proven, innovative and reliable range of switchgear is the backbone of the next generation electrical power system.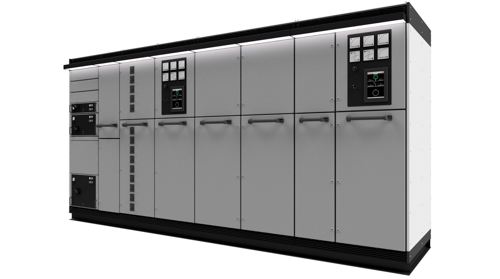 Based on our standardized, modular and highly flexible enclosure system we provide our customers with robust high capacity and space-saving assemblies. This will ensure a high level of operational safety and reliable.
Each switchgear includes a scalable digital layer that enable the customer to select a suitable level of functionality, remote support, data acquisition and digital services.
Reliability
Our switchgear uses internationally recognized world class brands for
electrical components, which ensures stable quality and availability
during the lifetime of the installation. Our marine switchgear is carefully
assembled, inspected and tested to ensure customer satisfaction.
Operational efficiency through the Digital layer
The protection functions are seamless integrated with measurement and PMS functions through the digital layer. It will make building, commissioning and energy operation more efficiency.
Compact and space saving design with cable entry from bottom, front-access or access from front and rear. Maintenance-free busbar is standard.
Generators and consumers are protected by fully integrated KONGSBERG LSP protection and synchronization unit. The unit are seamlessly integrated to PMS and EMS embedded in K-Chief IAS, thus reducing time used for engineering, installation and commissioning.
The main electrical components are of the latest type and configuration
from internationally recognized name brands verified according to IEC 60533 Electrical and electronic installations in vessel – Electromagnetic Compatibility (EMC), which ensures stable quality and simple maintenance during the lifetime of the vessel.
Fully compliant with Classification Society Rules.
Suitable for newbuild and retrofitting.
Tjenester og support
24/7 Technical support

Our 24/7 technical support team is there to help at any time, day or night, wherever your vessel is.

Conversions, retrofit and refit

We understand the importance of having the right parts, available in the right place, at the right time.

Training

Ensure that your crew is properly and thoroughly trained. This will reduce operational risk, downtime and maximise return on asset investment.