Simrad FS70
Simrad FS70 er en trålsonar som gir deg effektiv overvåking av trålåpningen og forholdene rundt redskapen
Simrads nye plattform for trål kombinerer "det beste fra to verdener". Den kommuniserer med fartøyet ved hjelp av en kabel, og samtidig ved hjelp av en hydroakustisk link med en rekke sensorer plassert rundt omkring på redskapen.
Simrad FS70 trålsonar gir således et komplett bilde. Den bruker et velprøvd og pålitelig FS kabelsystem for å kommunisere mellom sonarhodet i undervannshuset bak overtelna og fartøyet. Samtidig kommuniserer undervannshuset trådløst med en rekke PI eller FA sensorer. Undervannshuset inkluderer også et 200 kHz ekkolodd.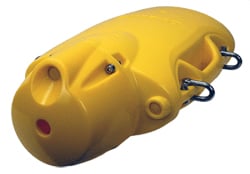 Den visuelle presentasjonen som du kan se på skjermen(e) på broa gir deg et klart bilde av trålåpningen i tillegg til informasjon fra de øvrige sensorene. Denne sofistikerte løsningen gir deg full kontroll over enhver type fiskeredskap, og ved hjelp av informasjonen vil du være i stand til å øke kvaliteten på fangsten og gjøre arbeidet til sjøs mere effektivt.
Tjenester og support
24/7 Technical support

Our 24/7 technical support team is there to help at any time, day or night, wherever your vessel is.

Conversions, retrofit and refit

We understand the importance of having the right parts, available in the right place, at the right time.

Training

Ensure that your crew is properly and thoroughly trained. This will reduce operational risk, downtime and maximise return on asset investment.