Simrad PI50 Fangstkontrollsystem
Simrad PI50 er et avansert sanntids fangstkontrollsystem for trål og not.
Ny brukerinterface
Menysystem på flere språk
Ny PI50 Mottakerenhet
Innovativ teknologi
Programvare kan gjøre på vanlig PC
Virker med standard fargeskjermer
Tilrettelagt for bredt skjermbilde (16:9)
For å oppnå kosteffektivt fiske er det viktig å ha kjennskap til hvordan redskapen din oppfører seg i sjøen.
Simrad PI50 fangstkontroll system forsyner deg med viktig informasjon om redskapen. Dette kan for eksempel være tråldørenes avstand og stabilitet, hvor mye fisk som har kommet inn i trålen, hvordan din bunntrål eller pelagiske trål oppfører seg, eller tilstanden på nota.
Et stort utvalg av trådløse sensorer er tilgjengelig for Simrad PI50. Plassert på trål og not vil disse gi verdifull og nøyaktig informasjon om redskapen.
Dette skjermbildet (hentet fra en simulator) viser hvordan Simrad PI50 er konfigurert med et sett med sensorer; Dybde, Avstand, Høyde, Temperatur og Geometri. Store og tydelige tall gir deg øyeblikkelig tilbakemelding fra redskapen. En tilleggsfunksjon lar deg åpne grafer. Disse viser deg hvordan informasjonen fra de valgte sensorene har endret seg over tid.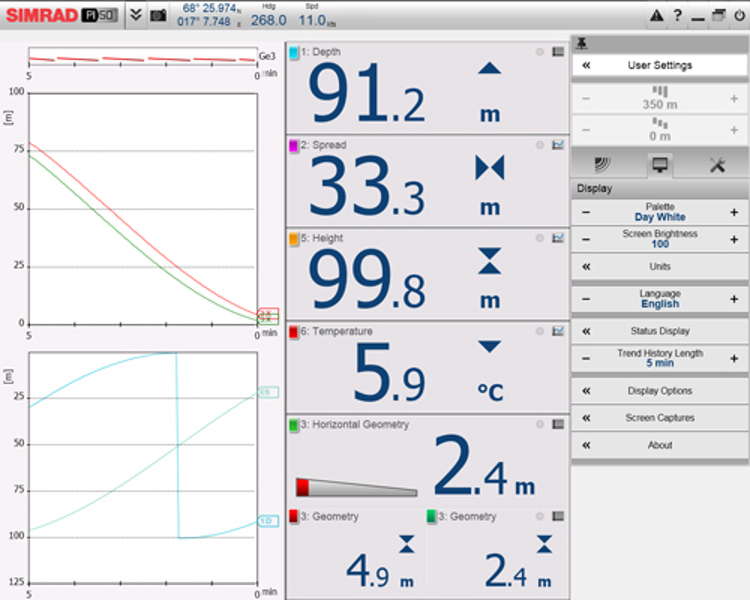 Tjenester og support
24/7 Technical support

Our 24/7 technical support team is there to help at any time, day or night, wherever your vessel is.

Conversions, retrofit and refit

We understand the importance of having the right parts, available in the right place, at the right time.

Training

Ensure that your crew is properly and thoroughly trained. This will reduce operational risk, downtime and maximise return on asset investment.