Simrad ES38-18/200-18C
Simrad ES38-18/200-18C er en "to-i-én"-kombinasjonssvinger som er utformet for bruk innen fiskeri og fiskeriforskning.
Svingeren inneholder både en 38 kHz dobbeltstrålesvinger og en 200 kHz enkeltstråletsvinger. Begge gir 18 graders strålebredde ved nominelle driftsfrekvenser. Dobbeltstrålesvingeren er utformet med tre separate sektorer.
Svingeren er strømlinjeformet og utformet for å monteres under skroget. Fluktende montering anbefales ikke.
Det må utformes en strømlinjeformet kledning som plasseres mellom den øvre delen av svingerens overflate og skroget. Den strømlinjeformede kledningen skal gi den nødvendige hellingsvinkelen og gi rom til kabelservicesløyfen.
Den strømlinjeformede kledningen må dekke hele den øvre overflaten av svingerhuset. Støtte bare i hver ende av svingeren kan medføre skade på svingeren dersom den utsettes for harde slag fra sjøen.
Svingerhuset leveres med to hull for monteringsbolter. Disse skal gå gjennom svingeren og feste den til den strømlinjeformede kledningen.
Svingerkabelen går gjennom skroget ved hjelp av et pakningsrør og en kabelgjennomføring.
Hvis du vil bestille svingeren eller noe av tilleggsutstyret som leveres med den, kan du kontakte den lokale forhandleren. Hvis du ikke har en fast forhandler, finner du en liste over aller distributører og forhandlere på denne nettsiden. Forhandleren vil også kunne hjelpe deg med et detaljert tilbud inkludert pris og leveringsinformasjon.
Bestillingsnummeret til svingerkabelen er inkludert i tilfelle kabelen til svingeren er for kort.
Så fremt formatene finnes er hver tegning gjort tilgjengelig på både PDF og DWG format. Når DWG finnes, er denne filen lagt inn i PDF-filen som et vedlegg.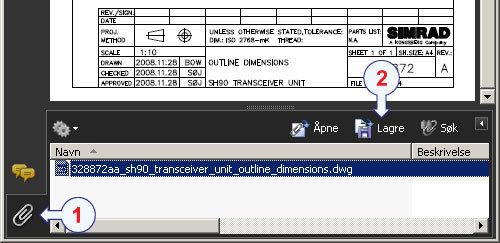 Tjenester og support
24/7 Technical support

Our 24/7 technical support team is there to help at any time, day or night, wherever your vessel is.

CONVERSIONS, RETROFIT AND REFIT

We understand the importance of having the right parts, available in the right place, at the right time.

Training

Ensure that your crew is properly and thoroughly trained. This will reduce operational risk, downtime and maximise return on asset investment.