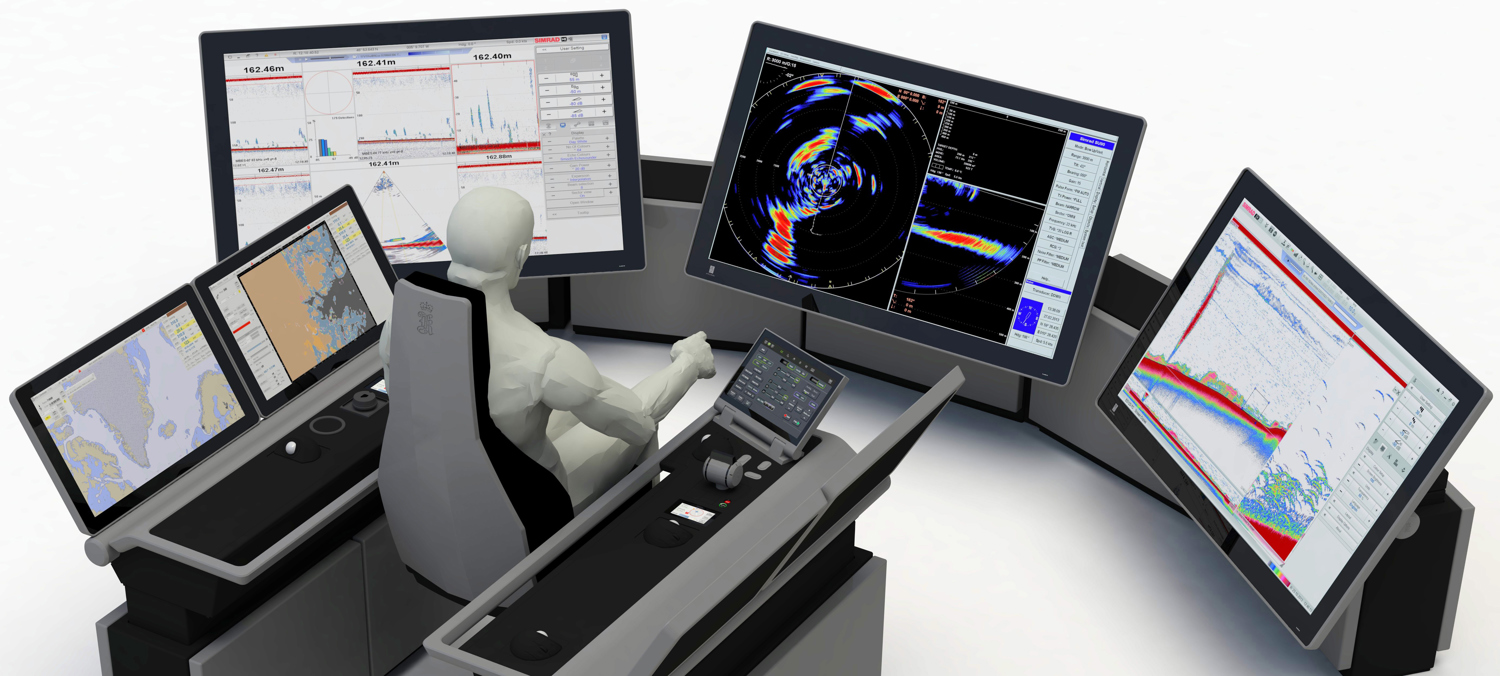 Integrated workstation for fishing vessels - FishMaster
By combining vessel manoeuvring with fish finding equipment, winch systems, catch monitoring systems and energy handling into one concept the FishMaster® is a reality.
FishMaster® will be delivered as a part of the integration with KONGSBERG navigation system, automation system, Simrad products, propulsion control, thruster control and rudder control systems. The different operational modes (transit, shooting, towing, hauling, boost, etc.) will give the operator the power needed and the flexibility to operate from one location with all important equipment in focus.
Features
K-Thrust 600 main propulsion, thruster and rudder control
Thruster lever design that fit the Kongsberg consoles
Levers for engine, thruster and rudder who give you same HMI for easy operation
Easy commando transfer between forward, aft and bridge wings
Remote support, detailed overview and advanced diagnostic trough K-Chief® 600
Joystick possibility
K-Nav
Multifunction radar and ECDIS
K-Power energy solutions
Traditional & hybrid (battery) power solution
Variable speed PTO, dynamic combinator curve to optimize the load and rpm on the engine
Propeller boost from auxiliary generators
Regeneration of power from trawl winches
Hybrid (battery)
Blackout prevention
Peakshaving
Shore connection with battery
K-Chief® 600 automation system
Alarm, monitoring, control and PMS
Alarm system, E0 / UMS solution
Control of all ships processes
Power management system
Tank gauging and monitoring
RSW & fish-handling processes
History storage, trending & report
Fuel & energy overview
CCTV
Video switch & operator panel
KONGSBERG / Simrad supplied products connected through LAN
3rd party equipment connected through additional hardware
Operator panels and operation only available for KONGSBERG / Simrad products
Tjenester og support
24/7 Technical support

Our 24/7 technical support team is there to help at any time, day or night, wherever your vessel is.

Conversions, retrofit and refit

We understand the importance of having the right parts, available in the right place, at the right time.

Training

Ensure that your crew is properly and thoroughly trained. This will reduce operational risk, downtime and maximise return on asset investment.