MAERSK TRAINING
Home Safe
At Maersk Training in Svendborg, Denmark, there are signs at the top and bottom of the long staircase from the lobby to the first floor: 'Use the handrail'. Centre director Michael Bang does. Every time.
Gunvor Hatling Midtbø

Vice President, Communications
"WITH ADVANCED SIMULATORS AND EXPERT INSTRUCTORS, WE ARE PLAYING CHESS WITH EIGHT QUEENS."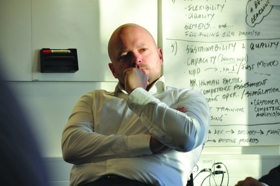 Michael Bang, Managing Director Maersk Training Svendborg 'More than a game': The marriage of advanced technology and instructors who excel.