Thermal Printer - GeoPrinter
KONGSBERG GeoPrinter is a highly reliable, all-purpose image printer that provides fast, high quality photographic images.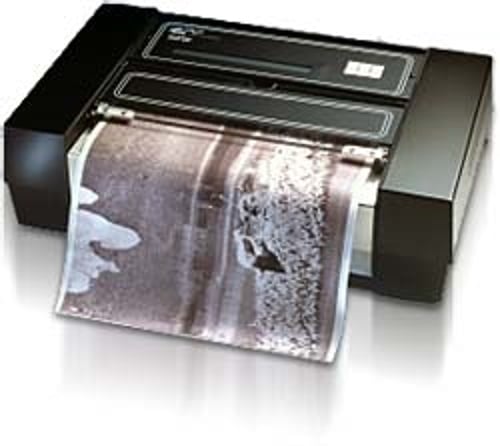 Images are recorded on a choice of thermal fibre-based paper, or plastic-based transparent film. The printed images are 25.6 cm (10.1 inches) in width by any length up to 45.7 m (150 ft) and feature 256 shades of grey per pixel and a resolution of 2048 pixels per line. The GeoPrinter is well suited for a wide range of applications where low cost, photographic quality images are required.
Key features
Large 25.6 cm (10.1 in.) printing width
256 Grey shades per pixel
2048 Pixels per line
Fibre or plastic imaging media
Low maintenance, reliable operation
Multiple interfaces available
Multiple drivers available
Applications
Sonar profiling
Medical scanning
Satellite photos
Scanning microscopy
High quality photo facsimile
Aerial reconnaissance
Weather imaging
Ultrasound
X-Ray
Spectrum analysis
Surveillance
Infrared imagery
Synthetic aperture radar imagery
Services and support
24/7 Technical support

Our 24/7 technical support team is there to help at any time, day or night, wherever your vessel is.

Conversions, retrofit and refit

We understand the importance of having the right parts, available in the right place, at the right time.

Training

Ensure that your crew is properly and thoroughly trained. This will reduce operational risk, downtime and maximise return on asset investment.