Simrad FM90 Multibeam Trawl Sonar
The Simrad FM90 is a flexible and feature-packed third-wire Multibeam Trawl Sonar
With a class-leading real-time image refresh rate, the FM90 provides a detailed live representation of the trawl. This fast refresh rate allows better trawl positioning so that you can maximise your catch and reduce the potential for expensive damage.
Key features
Real-time net picture
Superior bottom picture
Simplified software with automatic adjustments
Trawl and PI/PX sensor export to Serial Port or Ethernet Port
No dongle required to operate software
Convenient lift handles on Deployment Pack
High-visibility confirmation of Deployment Pack orientation during net launch
Easy access to third-wire connector
Fast flooding and draining of the Deployment Pack
No moving parts means less maintenance
Compatible with Simrad PI/PX catch monitoring sensors
Check out the features provided with our latest software release
The following screen capture shows a typical catch situation with the FM90 in use. In the largest window of the display you can clearly see the trawl opening and the bottom. The view on the left side shows the echogram from one of the built-in echo sounders. On the right-hand side, you can see information from the catch monitoring sensors in use.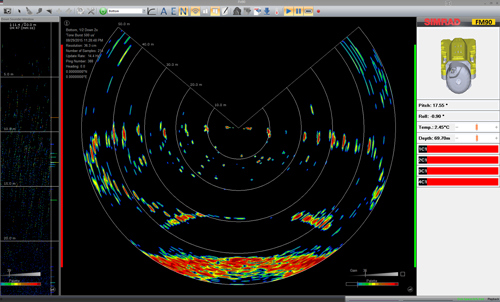 Services and support
24/7 Technical support

Our 24/7 technical support team is there to help at any time, day or night, wherever your vessel is.

Contact us:

Spares

We understand the importance of having the right parts, available in the right place, at the right time.

Training

Ensure that your crew is properly and thoroughly trained. This will reduce operational risk, downtime and maximise return on asset investment.