Simrad ES38B
Simrad ES38B is a 38 kHz high power split beam transducer.
The Simrad ES38B is a split-beam transducer incorporating 88 piezo-ceramic elements distributed over four quadrants.
Typical applications
Fish finding echo sounders
Scientific echo sounders
Key technical specifications
Note that the specifications can be altered without prior warning. For a full set of specifications, see the data sheet.
Frequency: 38 kHz
Circular beamwidth: 7° ±1
Maximum pulse power input: 4000 W
Maximum transducer depth: 50 m
Cable length: 20 m
Weight without cable: 40 kg
Physical dimensions:

Diameter: 480 mm
Height: 150 mm
Order numbers
Transducer: KSV-074531
Supporting beam: 099-206575 (*)
Mounting ring: 499-074076 (*)
(*) These items must be ordered separately.
Installation drawings
The following drawings can be downloaded.
[065080] Arctic tank, outline dimensions
[065238] Arctic tank, installation
[074076] Transducer mounting ring
[074077] Steel blister
[074544] Transducer mounting arrangement
[074674] Transducer outline dimensions
[082733] Steel blister
[088759] Transducer mounting procedure
[133807] Steel tank
[206574] Support beam, mounting
[206576] Support beam, drilling template
How to access the DWG files
Whenever available, each drawing is provided on both PDF and DWGformats. When applicable, the DWG version of the drawing is included in the PDF file as an attachment.
Open the PDF file in the normal manner.
Observe the "Attachment" icon in the lower left corner.
Click the icon to open the list of attachments.
Click on the DWG file provided, and select required action on the menu above the list.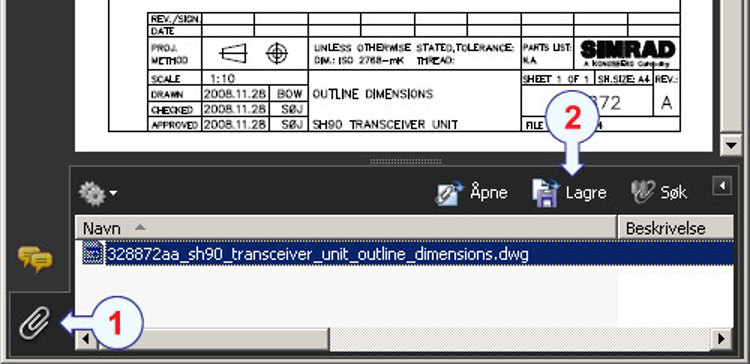 Attachement icon
Menu: Open or save the attachment file
Services and support
24/7 Technical support

Our 24/7 technical support team is there to help at any time, day or night, wherever your vessel is.

Conversions, retrofit and refit

We understand the importance of having the right parts, available in the right place, at the right time.

Training

Ensure that your crew is properly and thoroughly trained. This will reduce operational risk, downtime and maximise return on asset investment.