Simrad FS70
The Simrad FS70 is a third wire trawl sonar for efficient monitoring of the net opening and the fishing conditions.
Our FS70 trawl sonar platform combines "the best of two worlds". It communicates with the vessel by means of a third wire system, and with wireless sensors mounted on the trawl by means of hydroacoustic links.
The Simrad FS70 trawl sonar provides the "full picture". It uses the well proven and reliable FS third wire system to establish communication between the submerged sonar head located behind the headrope and the vessel. Simultanously, the submerged unit communicates with a number of PX, PI, PS or FA sensors by means of hydroacoustic links. The unit even includes a 200 kHz echo sounder.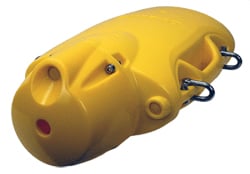 The visual presentation provided to you on the bridge gives you a clear picture of the trawl opening, as well as information from the sensors. This sophisticated solution allows you full control of any type of fishery, and by means of the information, you will be able to increase the quality of the catch and your efficiency at sea.
Services and support
24/7 Technical support

Our 24/7 technical support team is there to help at any time, day or night, wherever your vessel is.

Conversions, retrofit and refit

We understand the importance of having the right parts, available in the right place, at the right time.

Training

Ensure that your crew is properly and thoroughly trained. This will reduce operational risk, downtime and maximise return on asset investment.