Simrad ES70
The Simrad ES70 is a high accuracy professional single- and split-beam multi purpose fish finder.
Key facts
State of the art echo sounder for professional and semi-professional users
High resolution - high accuracy
Zoom function with biomass information
Bottom hardness
Innovative display gain functionality
Seamless automatic range
Automatic pulse length adjustment
Unlimited number of personal settings
Fast and easy operation
Improved bottom detection functionality
24 hours "on-screen" history
Menu system in multiple languages
Up to six frequencies shown simultaneously
Optimized for wide screen displays (16:9)
Product description
The Simrad ES70 is a high accuracy professional single- and split-beam multi purpose fish finder. It is designed for the professional fishery community. The latest innovations in computer technology have been used to satisfy the increasing needs from our demanding customers: "Top performance at any depth, and easy to operate!"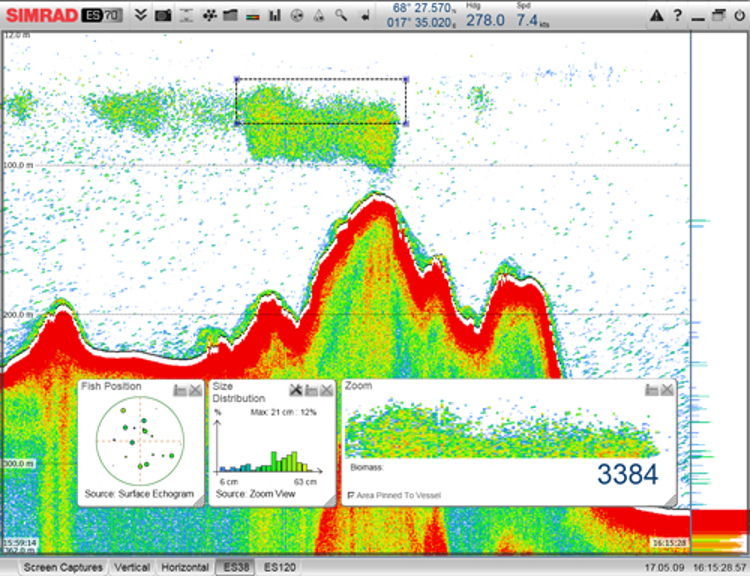 The ES70 screen capture shows the echogram provided by a Simrad ES38 split-beam transducer. An area of the echogram has been zoomed in. Additional information panes are used to reveal fish position and size distribution.
The Simrad ES70 is a modular system, the basic configuration consists of a computer, a transceiver and a transducer. Using this basic configuration you can start with a simple single frequency single beam system. Later, you can expand the system to a multi-frequency echo sounder using single and/or split-beam transducers. You can choose from a wide variety of advanced software functions, transducers, and transceivers.
Multiple frequencies are available for the Simrad ES70. This is because different frequencies and transducers are used for different fisheries. Mackerel, Tuna, Anchovies, Herring and other schooled fish are best measured using a high frequency system, typically 120 or 200 kHz depending on the depth. Cod, Pollock, Seith and other bottom fish can be measured using 70 or 38 kHz systems, while 18 kHz is used for deep water species. Any two of the available frequencies can be assembled in the same transceiver cabinet. Each frequency is operated separately as with individual echo sounders, or
simultaneously to see the frequency response from the fish on two different frequencies. You can add up to a total of six frequencies on the screen at the same time, or on separate monitors, using available software, computer technology and display monitors.
With the Simrad ES70, Simrad introduces a new way to present optional information. We call them information panes. With a click on the requested icon on the top bar, the information you wish to add to the echogram is presented in a dedicated frame. You can place the frame wherever you want, and you can change it to any size and shape. It is even transparent, so you will not loose any information from the echogram behind it.
The new zoom function provided by the Simrad ES70 is innovative, efficient and very easy to use. Using the trackball you can establish an area on the echogram. The information within this area is displayed in the Zoom pane, and the fish biomass is calculated and displayed. The zoomed area can be used to investigate a school of pelagic fish, or an area close to bottom.
Services and support
24/7 Technical support

Our 24/7 technical support team is there to help at any time, day or night, wherever your vessel is.

Conversions, retrofit and refit

We understand the importance of having the right parts, available in the right place, at the right time.

Training

Ensure that your crew is properly and thoroughly trained. This will reduce operational risk, downtime and maximise return on asset investment.