cNODE IQAM - Intelligent data analysis and monitoring
cNODE® IQAM (Intelligent Data Analysis and Monitoring) is an advanced instrument developed for a broad range of subsea data acquisition, monitoring and control applications. Data and events can be telemetered with robust Cymbal acoustic protocols to cNODE® Modem transponders or any portable or vessel fit HiPAP® SSBL system running Cymbal software.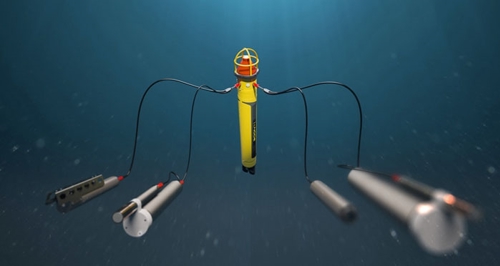 cNODE® IQAM can operate with both internal and external batteries. The low power electronics and configurable sensor logging intervals maximize the subsea deployment time.
Applications
cNODE® IQAM's flexibility to interface internal or external sensors provides capability for a large number of subsea monitoring applications for seabed structures including anchor piles, manifolds, PLETS, well heads or pipelines and also for environmental, leak detection, seabed deformation or subsidence, anywhere in fact the integrity of an asset or the environment needs to be monitored.
The cNODE® IQAM is particularly suited for subsea installation and commissioning since it has the flexibility to operate as a standard cNODE® transponder for LBL and SSBL positioning, allowing a seamless transition from the installation task through to long term monitoring.
Internal sensor modules are available to measure inclination, acceleration, pressure and sound velocity. External sensors that can be interfaced include ADCP's, pressure sensors, inclinometers, current meters, and CO2, CH4 and O2 sensors. Other sensors interfaces can be included into the library to meet customer requirements.
The intelligent data acquisition processor on board the cNODE® IQAM is capable of running custom algorithms or standard event analysis based on simple statistics of min / max and mean. The statistical values can be used to trigger alarms.
Data can be recovered via the serial interface, optical modem or via integrated CYMBAL acoustic telemetry. Cymbal KM propriety digital telemetry has a number of profiles to ensure the robustness of data transfer depending upon the environment.
The cNODE® IQAM can be built in a range of materials including hard anodized aluminium through to super duplex stainless steel for corrosion resistance. With a standard depth rating of 4000m, two housing lengths are available based on the cNODE® Maxi and cNODE® Midi, depending upon the battery endurance required.
With the cNODE® IQAM Control, up to two remote subsea valves can be actuated via the integrated solenoid drivers. In addition 4-20 mA, RS232 or RS485 sensors can be interfaced for read backs or sensor logging.
Configurations
The cNODE® IQAM can be supplied in two configurations, either with the interface module as a top section below the transducer or as an endcap. Both options feature:
Sensor interface and logging: Up to 4 sensors
On board processor
Alarms based on algorithm or limits
32 GB μSD data storage
1 x isolated RS232 channel
2 x non-isolated SIO configurable to be RS232 or RS485
1 x non-isolated SIO configurable to be TTL UART, RS232 or RS485
On-board 9-axis IMU (3 axis for gyro, accelerometer & magnetometer)
Connectors (top section): 2 x 8 pin Subconn
Connectors (endcap): 16 pin Subconn or Gisma
cNODE® IQAM Control
cNODE® IQAM Control is designed for interfacing analogue sensors and remote actuation of subsea valves via the solenoid drivers built into the endcap. Up to four analogue 4 – 20 mA sensor or read backs can be interfaced. The control module also acts as a modem and sensor logger. Features include:
2 x 24 VDC Solenoid driver (cannot be used simultaneously)
Sensor interface and logging: Up to 4 sensors
On board processor
Alarms based on algorithm or limits
32GB μSD data storage
4 x 4-20mA ADC channels
2 x 0-5V ADC channels
1 x non-isolated RS232
1 x non-isolated RS422/RS485
On-board 9-axis IMU (3 axis for gyro, accelerometer & magnetometer
Connectors top section model: 2 x 8 pin Subconn
Connectors endcap model: 16 pin Subconn or Gisma
Services and support
24/7 Technical support

Our 24/7 technical support team is there to help at any time, day or night, wherever your vessel is.

Conversions, retrofit and refit

We understand the importance of having the right parts, available in the right place, at the right time.

Training

Ensure that your crew is properly and thoroughly trained. This will reduce operational risk, downtime and maximise return on asset investment.