KONGSBERG Remote Diagnostics (1ST LINE)
KONGSBERG can remotely connect to the KONGSBERG control systems onboard customer installations via our Global Secure Network, enabling analysis, observation and collaboration with onboard personnel to troubleshoot and assess issues during fault finding or maintenance.
KONGSBERG Remote Diagnostics is a service tool to perform diagnostic troubleshooting by viewing in real time what is occurring on KM delivered systems onboard.
KM expert support personnel can collaborate with end users, assess and perform quick, decisive diagnostics during fault finding and in operation, by viewing in real time what the user is seeing on the screen. They can therefore check if replacement parts are needed or if direct remote configuration or a service visit is required.
KONGSBERG provide Remote Support software and hardware for installation on board, enabling collaboration between our customers' personnel in the field and Kongsberg Maritime's global pool of service and support experts. This can take place when and where it is needed, from any KM operator station connected to the Kongsberg Network.
Remote Diagnostics ensures that all personnel involved have THE FULL PICTURE and a common understanding of challenges that need to be solved and how to implement solutions.
At KM we believe tools for effective communication are key to solving problems remotely, thus reducing cost and downtime and providing improved quality and safety in operation.
Remote Support is optimised to facilitate collaboration at operator stations. Our Expert in the Loop can stay in the office while viewing exactly what the operator is doing, making communication effective and efficient.
Gone are the days of vast numbers of emails with attachments and images of what the operator sees. Our experts can draw or mark areas on the operator station software and chat on the remote support chat function. Optionally, it is also possible to record sessions as documentation.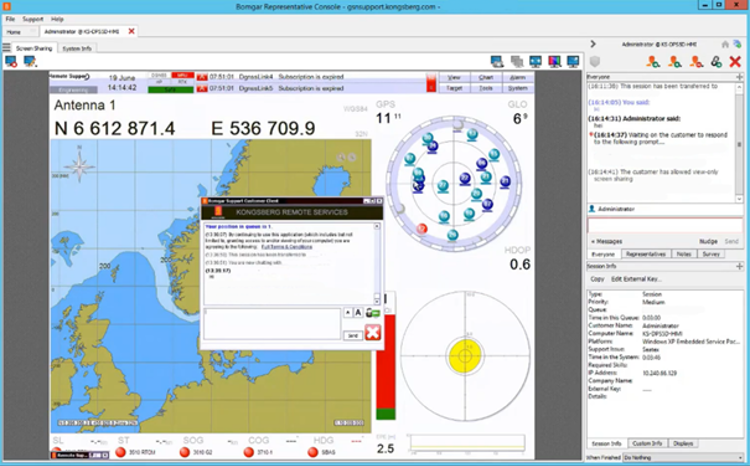 Remote Support: Diagnostics
KONGSBERG is ready to provide Remote Diagnostics through highly skilled engineers and to effectively assist our customers utilising the Remote Support service, reducing cost and downtime.
Cyber Security is important to us and we provide a solution that is designed to address the challenges of establishing a secure and reliable session with the remote location via satellite communications. Using the global secure network developed by KONGSBERG, all communications are authenticated and encrypted by a Kongsberg Maritime-controlled PKI (Public Key Infrastructure) regime, with point-to-point encryption of data traffic and separate networks for each customer and remote support session.
Risk analysis and scope of work is agreed upon before a session can start. Remote configuration sessions are initiated by the customer after a suitable time is found for both parties.
Hardware
KONGSBERG Remote Service kit contains a pre-programmed router, malware protection computer and software for the operator stations. The kit can be installed on a variety of hardware platforms, and may be table mounted or installed in a 19" rack.
GET STARTED by contacting KONGSBERG today and get your fleet ready for Remote Services.
Contact your key contact, Kongsberg office or / +47 33 03 24 07 .Our support team are ready to onboard your company.
EXECUTION of remote service process has the following three steps:
Preparation
Execution
Afterwork
Service reports can be provided by KONGSBERG after Remote Diagnostics.
Key benefits:
Operational guidance: Onboard personnel initiate a remote session. A certified Kongsberg engineer then connects and observes the operation live while giving operational advice through the built-in chat function.
Configuration: A configurational task has been identified. Risk assessment has been done and remote safe job analysis has been cooperatively completed by the customer and Kongsberg. Remote configuration is carried out by a certified Kongsberg engineer, once onboard personnel have initiated and approved a session for KM to actively perform adjustments to the onboard configuration.
Diagnosis: Onboard personnel initiate a remote session. A certified Kongsberg engineer then connects and checks live parameters to help identify the problem.
Malware protection: USB access to operator stations is restricted until USB sticks are scanned for malware. This prevents manual and/or accidental introduction of malware onto the stations.
BENEFITS OF Remote Diagnostics
Enables efficient technical support and service delivery for vessels operating in areas where access for service engineers might be limited.
Operational support and guidance.
Efficient response in cases of down time by immediate delivery of expert assistance via connection to the vessel
Improved preparation prior to service visits by getting real time status and diagnostics from the systems
Operations Assistance during critical and complex operations.
Reduce the time for onboard KONGSBERG personnel by delivering specialist support remotely
Minimises the number of service trips, thus reducing the operation cost.
Periodic inspection for preventive maintenance
Protect the installation from malware, thus reducing downtime
FEATURES
Efficient data routing through Kongsberg network nodes around the world.
Diagnostic and configuration possibilities from Kongsberg offices within the Kongsberg Global Secure Network
All sessions must be initiated and confirmed by personnel on board. Only certified Kongsberg engineers can access remote operation rooms located on Kongsberg sites
24/7 live monitoring of network link
Remote support does not require public and/or static IP addresses
Uses existing internet connection on the vessel
The risk of manual introduction of malware to operator stations is limited, as all USB sticks have to be scanned for malware prior to connecting to an operator station
Works on low bandwidth / high latency links