GT405 - Marine pressure transmitter
General purpose differential pressure transmitters designed for use in maritime and offshore applications.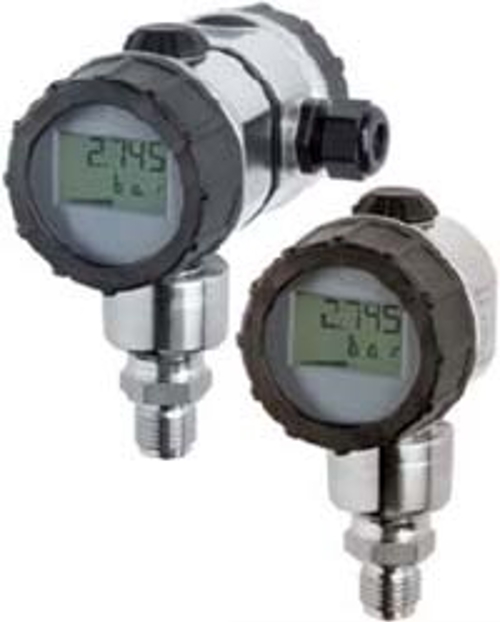 The KONGSBERG GT405 pressure transmitter with HART® interface combines maximum precision with easy operation. It is designed for general applications where pressure and level measurement were accuracy and stability is required over a long period of time, and to provide reliable measurements for common applications such as barometric pressure measurements.
The integrated LCD display shows measurements of both pressure and ambient temperature. The pressure transmitter is fitted with ATEX Ex ia - gas and dust explosion protection. Two versions of the GT405 pressure transmitter are available. These have different enclosures and provide easy connection using either a standard M12 connector or terminal connection. Both have exceptionally low long term drift and high accuracy within a broad temperature range, with approval tests for ambient temperature down to - 45 °C.
Key features
Accuracy of 0.1 %
Low temperature drift
Low long-term drift
Excellent overload capacity
HART compatible
Body of AISI 316
No sealing gasket
Rotary knob for ease of operation
ATEX EX ia
LCD Display (different measuring units)
ATEX and applications
ATEX is the regulatory directive for the design, installation and use of products in environments where there is a potential explosion risk from flammable gases or dust. The GT405 is therefore well suited for applications such as deck installations on vessels and other offshore installations. The low temperature classification makes them suitable for ice class vessels and operate without any gasket towards the process media, the transmitters can be used for the majority of fluids and gases without danger of leakage.
Capacity and accuracy
The transmitter has an overload capacity of minimum six times the range, and the burst pressure is ten times the range. If required, a higher capacity can be obtained due to the scalability. The long term stability is 0.1% / year and the transmitter has an accuracy of ≤ 0.1 % at room temperature. For a precise pressure measurement, the consideration of the three parameters has to be applied for a system. Especially is this reflected for small quantities to GT405 Pressure Transmitter be measured and with requirements of a high overload capacity and a small drift. This importance will be revealed where location of the measuring point makes it difficult for replacements and maintenance.
Two enclosure versions
The short version is fitted fitted with an M12x1 round plug for electrical connection. This enclosure is suitable for applications where space requirements are limited. The M12 standard is rugged, designed for tough applications and when it comes to wiring it is time saving. The long version is approximately 50 mm longer due to a connection box with terminals for the wires. This enclosure is fitted with an M20x1.5 cable gland covering cable diameters from 9 to 13 mm, making it more flexible.
Advantages of Stainless steel
The housing and sensor are made from high quality stainless steel. An all stainless steel design is ideal for applications in demanding environments where high reliability and durability is required to withstand the extremes of shock, vibration and temperature. For the majority of fluids and gases, stainless steel provides excellent protection against short and long term corrosion due to naturally occurring resistant surface layer formed by a self passivisation process. Over many pressure and temperature cycles an all welded mechanical assembly (welded seal) provides a high integrity pressure seal for very high pressure and vacuum applications. An other benefit is that all mechanical parts exposed to the media is made of the same material and welded together so that there are no crevices to attract contaminants or process media residues.
Services et support
24/7 Technical support

Our 24/7 technical support team is there to help at any time, day or night, wherever your vessel is.

Conversions, retrofit and refit

We understand the importance of having the right parts, available in the right place, at the right time.

Training

Ensure that your crew is properly and thoroughly trained. This will reduce operational risk, downtime and maximise return on asset investment.