Tool applications
We have developed several computer tools to support the K-Safe system. All these K-Safe tools can be used in the engineering phase of the production of fire protection data sheets, automatic software configuration of the system from databases to the production of operator pictures. We can also deliver databases for building a complete overview of cable terminations and equipment content for the K-Safe system.
Cause and effect tool
The cause and effect tool is an advanced solution for generating cause and effect diagrams or fire protection data sheets. It can also produce as-built data from the target computer.
The cause and effect tool supports facilities such as fully automatic transfer of cause & effect information to the K-Safe Systems. Among other documents it can produce Fire Protection data sheets (FPDS), Field Tags and commissioning status reports. Facilities for revision control, copy functionality, access control, tag connection to cause & effect and as-built cause and effects have been included. The cause and effect tool supports deviation reports between engineering and as-built data.
The cause and effect tool may also be used as online C & E documenting dynamically the C&E logic programmed on the controller. The C & E will also dynamic show the status of the logic elements online as an integrated part of the system's human machine interface.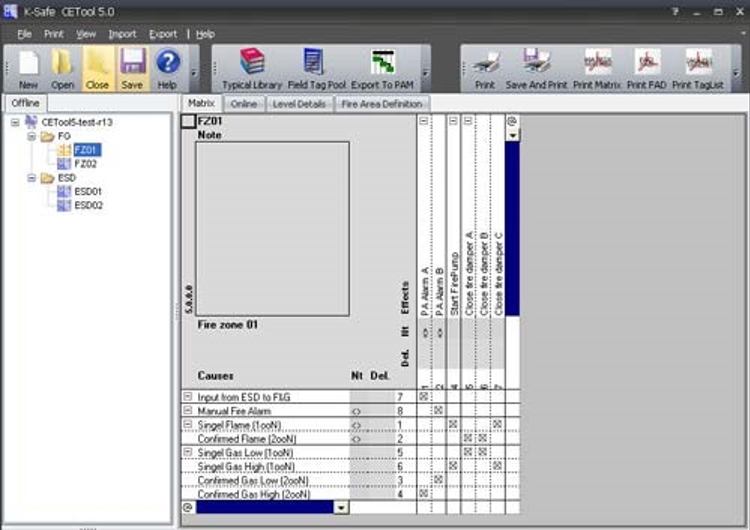 Databases
Other tools include IO databases, termination databases, automation of programming and termination databases enabling a smooth engineering process.
Services & aftermarket support
Our support teams, located worldwide, are committed to helping you manage the vital balance between operational availability and cost. Wherever your vessel is located, our support is close at hand.
Services et support
24/7 Technical support

Our 24/7 technical support team is there to help at any time, day or night, wherever your vessel is.

Conversions, retrofit and refit

We understand the importance of having the right parts, available in the right place, at the right time.

Training

Ensure that your crew is properly and thoroughly trained. This will reduce operational risk, downtime and maximise return on asset investment.