Multi functional operator station - K-Bridge
K-Bridge MULTI combines the capabilities of ARPA, ECDIS and Conning stations into one unit.
With its three modes of operation, K-Bridge MULTI provides an excellent opportunity for optimal sharing of work. Each mode complies with the respective regulations for that mode and allows the crew to set up the bridge with multiple K-Bridge MULTI stations exactly as preferred for the current manning and vessel operation. The possibility to shift command responsibility for autopilot and track control between the stations contributes further to the flexibility.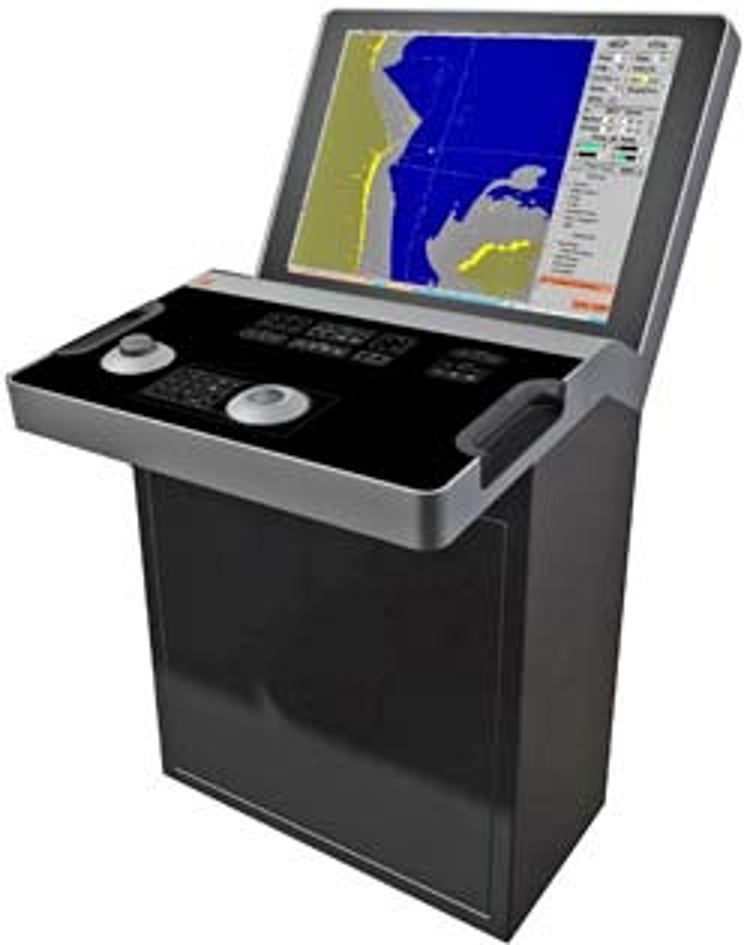 Customer benefits
Type approved ARPA radar functions, ECDIS and conning information system
Remote control of auto pilot in heading, course and track mode with dedicated paneldevice
Planning and monitoring of sailing routes
Shares charts, sailing routes and AIS targets with other K-Bridge operator stations when connected on a common local area network
ARPA radar
Manual and automatic radar target acquisition and tracking
Display charts as underlay to the radar video in ARPA mode
Operator panel with analogue adjustment of ARPA gain and clutter
ECDIS
Displays radar video as chart overlay in ECDIS mode
Vector charts: S57 Edition 3 (Official charts) and S63 (Primar TM ) Security scheme
Vector charts: CM-93/3 and CM-93/2 vector charts from C-Map
Raster charts: ARCS (UKHO) or Seafarer (AHO)
Conning display
Displays conning information adapted to current mode of operation: Transit with track control, docking, dynamic positioning
Standards applied
The equipment is designed to conform to the following standards:
IMO MSC 64 (67) Appendix 4 Recommendation on Performance Standard for Radar Equipment
IMO Resolution A.823 (19). Performance Standard for Automatic Radar Plotting Aids (ARPA)
IEC 60936-1, Shipborne Radar, Operational and Performance Requirements
IEC 60872-1, ARPA, Operational and Performance Requirements
IEC 61174 Ed.2.0 ECDIS Operational and Performance Requirements. Method of Testing and Required Test Results
IMO Resolution A.817 (19), Performance Standard for Electronic Chart Display and Information Systems
IEC 61162 Ed.2.0 Maritime navigation and radio communication equipment and systems – Digital interfaces
IEC 529 Second edition (1989-11), Degrees of protection provided by enclosures (IP code)
IEC 60945, Maritime Navigation equipment, General Requirements
IEC 60936-3, Radar with Chart Facilities Performance Requirements
IEC 60936-5, AIS presentation on Radar
Electrical
Input voltage : 115/230 VAC +/- 10%
Frequency : 50/60 Hz +/- 5%
Power consumption : 340 W
Environmental specifications
The K-Bridge multifunctional operator station is in compliance with IEC 60945.
Services et support
24/7 Technical support

Our 24/7 technical support team is there to help at any time, day or night, wherever your vessel is.

Conversions, retrofit and refit

We understand the importance of having the right parts, available in the right place, at the right time.

Training

Ensure that your crew is properly and thoroughly trained. This will reduce operational risk, downtime and maximise return on asset investment.