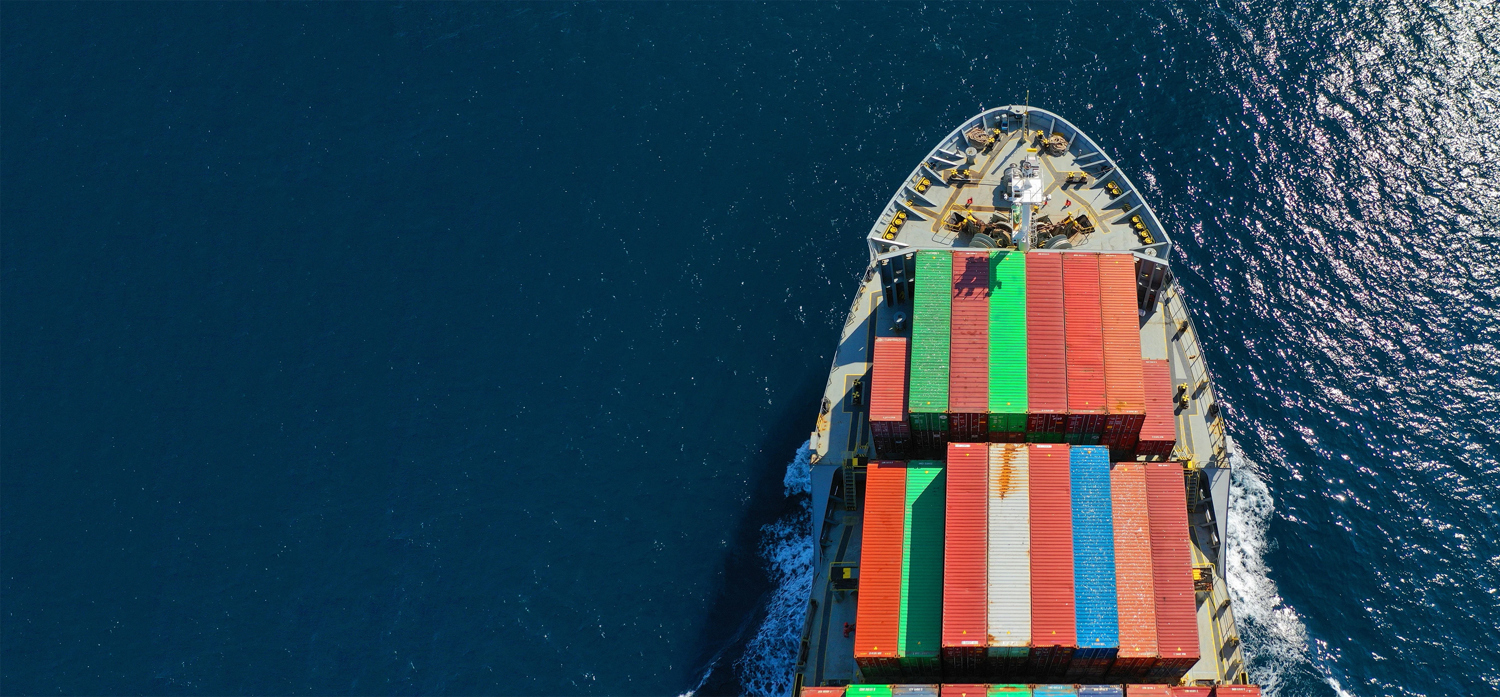 – from 2023, all existing ships must meet new energy efficiency standards
Eexi compliance through power limitation solutions
The International Maritime Organisation (IMO) is introducing new regulatory standards for ship energy efficiency - the Energy Efficiency Existing Ship Index (EEXI) and Carbon Intensity Indicator (CII) - which are to take effect in January 2023. Despite the imminence of the implementation of the measures, vessel owners have the opportunity to quickly prepare their assets for compliance with the support of Kongsberg Maritime's expertise and broad range of solutions developed to deliver on all operational, commercial, budgetary and time requirements.
IMO GREENHOUSE GAS STRATEGY
THE ENERGY EFFICIENCY EXISTING SHIP INDEX (EEXI)
The soon-to-be-effective EEXI is a technical measure setting new minimum requirements for the energy efficiency of existing ships. Just like the Energy Efficiency Design Index (EEDI) which applies to new-builds, the EEXI is evaluated based on the vessels' design parameters such as equipment and technical data. This measure is applicable to all cargo and passenger vessels above 400 gross tonnage falling under MARPOL Annex VI*. Non-compliance with the measure may lead to fines and a possible interruption of the vessel's operations.
* does not apply to ships already built in accordance with EEDI phase 2 or 3 requirements
THE ROUTE TO COMPLIANCE
Preparing a vessel for compliance does not have to be a cumbersome and costly endeavour. Kongsberg Maritime offers a wide range of comprehensive solutions as well as expert guidance to help you make the most informed decision within the short allowed timeframe and determine the solution that will benefit your vessel and operations in an optimal way. EEXI compliance can be achieved through a variety of measures, the fastest, easiest-to-install and most economical being through power limitation solutions.
THE CARBON INTENSITY INDICATOR (CII)
The CII will take effect in January 2023 alongside the EEXI and will apply to all cargo, RoPax and cruise vessels above 5,000 gross tonnage trading internationally. The CII is an annual indicator of the ship's transport efficiency rated from A (best performance) to E (worst performance) and expressed in grammes of CO2 emitted per transport capacity and distance. While the EEXI is a one-time certification covering design parameters, the CII is given based on the actual emissions of the vessel during operation and is to be revised yearly.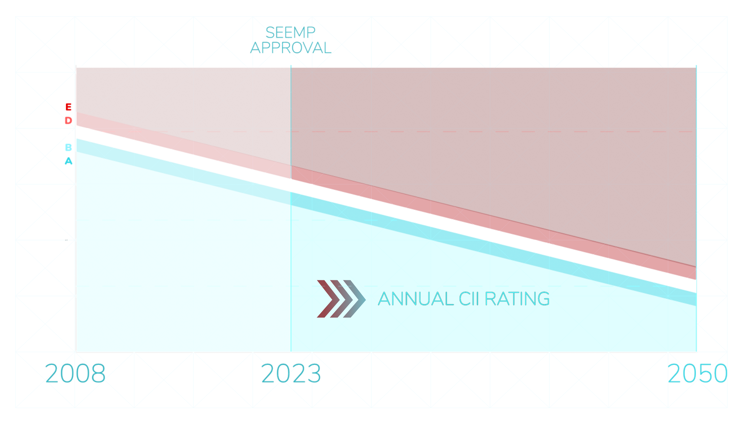 The requirements of the CII rating scheme as well as other climate-related regulatory measures are meant to become increasingly stringent over time in order to meet the IMO's initial emission reduction goals for 2030-2050.
MAKE THE MOST OF YOUR EEXI COMPLIANCE PROJECT
Implementing actions for EEXI compliance is a good opportunity for ship owners to prepare their vessels to achieve favourable CII ratings, remain environmentally compliant over time, gain in operational efficiency and increase in commercial value in an optimal and prepared way. Correction or improvement plans must be undertaken as part of the Ship Energy Efficiency Management Plan (SEEMP), should a vessel's CII rating not reach the level of acceptance defined by the IMO, that is, a single E rating or a three-year consecutive D rating. To qualify for the highest ratings, necessary measures can include the installation of more energy-efficient products, systems and technologies on board, the adoption of cleaner power sources, or the complete alteration of a propulsion system with hybrid or zero-emission solutions. GETTING STARTED - NOW
To avoid the cost- and time-related pitfalls of hurried corrective measures, our customers can benefit from the sharp engineering competences, long experience and expert guidance of our teams to effectively plan their EEXI and CII compliance project and tailor their environmental solution for an optimal investment and maximised, durable benefits. Thoughtfully planned, the improvement project of a vessel's environmental profile and CII rate will contribute to increasing its commercial value, attractiveness (chartering) and operational efficiency. Higher-performance vessels (rated A or B) may in addition benefit from incentives from ports, administrations and other relevant institutions, as encouraged by the IMO. YOUR COMPLETE ENVIRONMENTAL SOLUTION FROM KONGSBERG
At Kongsberg Maritime, we promote and leverage the power of integrated solutions to provide significant, synergised and durable benefits to vessels around the world. Fleet owners can trust Kongsberg Maritime to leverage our broad portfolio of products and technologies and large pool of competences to develop, integrate and implement the optimal solution that will fulfil our customers' requirements for operability, safety and efficiency. Our solutions are designed for all levels of project complexity and requirements, ranging from simple upgrades through to advanced hydrodynamics analyses and improvements, system retrofitting and refitting, and complete propulsion and purpose conversions.