Marine automation system, K-Chief 700
The K-Chief 700 marine automation system is a distributed monitoring and control system. Its flexible, architecture allows it to be used for a wide range of tasks within offshore industry, safety- and vessel control systems.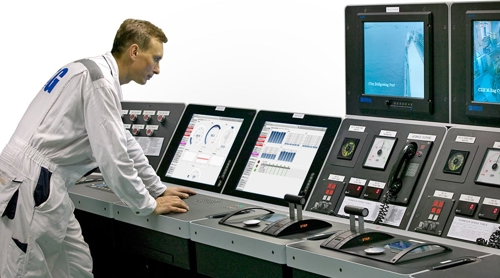 The K-Chief 700 is primarily a stand alone system that covers all important functions onboard a vessel, such as:
Power management
Auxiliary machinery control
Ballast/bunker monitoring and control
Cargo monitoring and control
The K-Chief 700 system is built from modular hardware components and modular application software. Any number of these modules can be combined to provide an optimal solution for a specific vessel's requirements.
Distributed processing
The K-Chief 700 marine automation system is based on distributed processing where the various processes are controlled by input/output (I/O) modules located close to the processing units.
System overview
Our remote I/O modules, may also be installed in our own cabinets or those supplied by others. Typical examples are switchboards or valve control cabinets, to achieve complete installation and pre-commissioning before installation. The K-Chief 700 remote I/O range includes modules for a wide variety of applications including installations in hazardous areas.
Integrated vessel control
The K-Chief 700 marine automation system may be integrated seamlessly with KONGSBERG dynamic positioning, propulsion control systems and custody transfer system. Our integrated solutions offer significant advantages over stand alone systems:
Well-proven solutions that focus on the complete vessel operation
Operational consistency
Free information flow throughout the entire system
Common technology
Integrating all functions for monitoring and control of a vessel provides benefits both technically and economically. Functions are integrated to reduce the need for hardware and software functions and to reduce interface requirements. The benefits of system integration are fully realised when all components are based on the same technology, both in hardware and software.
Modular technology
The use of common technology has allowed us to develop modular products. The benefits of modularity are passed on to our customers through:
Same range of hardware modules are used in the K-Pos dynamic positioning and K-Chief marine automation system
Identical basic software platform in the K-Thrust thruster control, K-Pos and K-Chief marine automation system
Free flow of information between the K-Thrust, K-Pos and K-Chief systems process information
Consistent operation
Reduced spare part and training requirements
Safety and reliability
The K-Chief 700 is designed to meet the most stringent safety and reliability requirements to provide maximum availability. It supports redundancy at all levels including communication, process controllers, remote I/O modules and power supplies.
The built-in self-diagnostic facilities monitor the entire control system and include extensive monitoring of field circuits as well as earth-fault detection. Fail-to-safe philosophy is implemented by pre-determination of system responses with respect to internal or external faults. K-Chief 700 have been type approved by major classification societies.
Cost optimisation
The K-Chief 700 concept allows significant reductions in cost and installation time compared to traditional solutions. These savings result from:
Extensive cabling reductions
Reduced man-hours for engineering, installation, commissioning and documentation
Reduced vessel building time
Improved quality of testing of control system
Ship types
A powerful process control system that can be tailored to meet the individual requirements of complex vessels including:
Cruise & Megayachts
Drilling / intervention
FPSO & FPU
Liquid gas carriers
Offshore support & construction vessels
Shuttle tankers
Services & aftermarket support
Our support teams, located worldwide, are committed to helping you manage the vital balance between operational availability and cost. Wherever your vessel is located, our support is close at hand.
Servicios y soporte
24/7 Technical support

Our 24/7 technical support team is there to help at any time, day or night, wherever your vessel is.

Conversions, retrofit and refit

We understand the importance of having the right parts, available in the right place, at the right time.

Training

Ensure that your crew is properly and thoroughly trained. This will reduce operational risk, downtime and maximise return on asset investment.
¿como podemos ayudarte?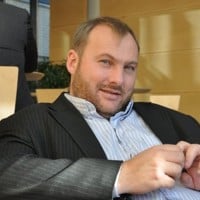 Ståle Furuberg
Senior Sales Manager