Simrad ES38-18/200-18C
El Simrad ES38-18/200-18C es un transductor combi "dos en uno" diseñado para la pesca y para la investigación pesquera y marina.
Contiene un transductor split beam de 38 kHz además de otro single beam de 200 kHz. Ambos ofrecen un ancho de haz de 18 grados en sus frecuencias operativas nominales. El transductor split beam está diseñado con tres sectores separados.
El transductor es aerodinámico y está diseñado para montarse bajo el casco. No es recomendable montarlo empotrado.
Se debe diseñar un carenado que se ajuste entre la parte superior de la superficie del transductor y el casco. El carenado debe tener el ángulo de inclinación necesario y contar con suficiente espacio para el lazo de servicio del cable.
El carenado debe cubrir toda la parte superior de la carcasa del transductor. Si sólo se sujeta cada extremo del transductor corre el riesgo de dañar el transductor en caso de pantocazo.
La carcasa del transductor tiene dos orificios para los pernos de montaje. Éstos deben pasar por el transductor y ajustarlo al carenado.
El cable del transductor penetra en el casco por medio de un pasacascos y un pasacable.
Descargar el Manual de Instalación Simrad ES38-18/200-18C
Para realizar un pedido de este transductor o de cualquiera de sus artículos opcionales, contacte con su distribuidor local. En caso de no tener un distribuidor habitual, en nuestra página web encontrará un listado de distribuidores y representantes. Su distribuidor también podrá ayudarle con un presupuesto detallado que incluye precio e información sobre la entrega.
Se incluye el número de pedido del cable del transductor en caso de que el cable suministrado sea demasiado corto.
Siempre que es viable, incluímos los diagramas en ambos formatos: PDF y DWG. En ocasiones, la versión DWG del diagrma se incluye como adjunto al formato PDF.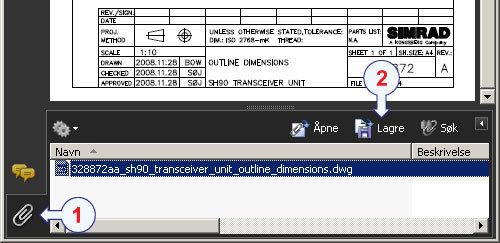 Servicios y soporte
24/7 Technical support

Our 24/7 technical support team is there to help at any time, day or night, wherever your vessel is.

CONVERSIONS, RETROFIT AND REFIT

We understand the importance of having the right parts, available in the right place, at the right time.

Training

Ensure that your crew is properly and thoroughly trained. This will reduce operational risk, downtime and maximise return on asset investment.