Simrad FS70
Sonar de red: para una eficaz monitorización de la apertura de red y de las condiciones de pesca
El nuevo Sistema de sonar de Red de Simrad combina "lo mejor de ambos mundos". Se comunica con el barco mediante el tercer cable del sistema y con los sensores montados en el arte, a través de enlaces hidro-acústicos.
Este nuevo Sonar de Red, el Simrad FS70 proporciona una "imagen global" de la situación. El FS utiliza el probado y fiable tercer cable para establecer comunicación entre la cabeza del sonar (que permanece sumergida, situada detrás de la relinga superior) y el barco. Simultáneamente, la unidad sumergida se comunica con un determinado número de sensores PI o FA mediante enlaces hidro-acústicos. Además, el sistema incorpora una ecosonda que trabaja a 200 kHz.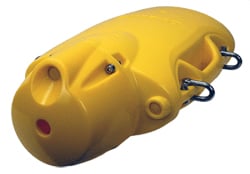 La presentación visual que facilita en la pantalla situada en el puente, proporciona imágenes nítidas de la apertura de red, así como información diversa suministrada por los sensores. Esta sofisticada solución permite que el patrón controle el arte, practique la modalidad pesquera que practique. Gracias al conjunto de la información, es posible mejorar la calidad de las capturas y rentabilizar las permanencias en la mar.
Servicios y soporte
24/7 Technical support

Our 24/7 technical support team is there to help at any time, day or night, wherever your vessel is.

Conversions, retrofit and refit

We understand the importance of having the right parts, available in the right place, at the right time.

Training

Ensure that your crew is properly and thoroughly trained. This will reduce operational risk, downtime and maximise return on asset investment.