Simrad TV80 Software de Monitorización de Capturas
El programa Simrad TV80 es la última y más completa solución para mostrar toda la información relacionada con las faenas de pesca.
Su diseño flexible e intuitivo permite detectar cualquier cambio o tendencia en los datos procedentes del arte de arrastre y/o de los sensores de monitorización de captura. Un simple vistazo a la pantalla es suficiente para tener una visión general.
Fácil operativa gracias a su intuitiva interfaz de usuario
Flexible presentación de datos en pantalla
Hasta cuatro vistas simultáneas
Configuración de pantalla dual
Defina y guarde su propia configuración
Grabación de datos de telemetría cada 60 segundos
Analizador de espectro incorporado
Lectura de datos estable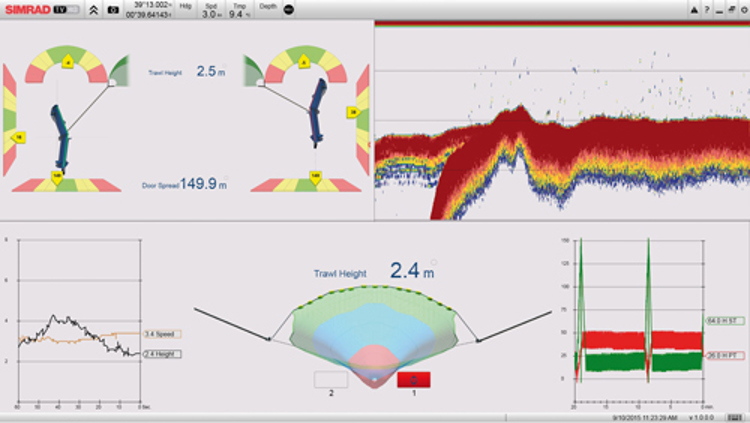 Presentación de datos configurable por el usuario
Existen diferentes modos para presentar los datos y si tiene una pantalla grande podrá presentarlos todos simultáneamente. También puede trabajar con una configuración de pantalla dual, lo que permite manejar más información sin saturar la pantalla.
En el TV80 la presentación de los datos obtenidos por los sensores se organiza en vistas. Estas vistas proporcionan la información necesaria para controlar la funcionalidad y los parámetros operativos. En el TV80 se puede utilizar un máximo de cuatro vistas simultáneas. Si usa menos de cuatro vistas, puede seleccionar si disposición según sus necesidades operativas o preferencias personales.
Espectro de frecuencias incorporado
La calidad del enlace de comunicación acústica entre los sensores y el receptor puede resultar un desafío por el ruido. Cuando el ruido aparece en el mismo rango de frecuencias que están usando los sensores para realizar la comunicación, la información que resulta puede ser inestable o ilegible. El TV80 cuenta con un analizador del espectro que muestra las señales procedentes de cada hidrófono. El gráfico en el cuadro de diálogo Espectro proporciona información sobre el ruido de fondo y la fuerza de la señal en la banda de frecuencia seleccionada. Con esta información podrá identificar el ruido y encontrar las frecuencias "más limpias".
Servicios y soporte
24/7 Technical support

Our 24/7 technical support team is there to help at any time, day or night, wherever your vessel is.

Conversions, retrofit and refit

We understand the importance of having the right parts, available in the right place, at the right time.

Training

Ensure that your crew is properly and thoroughly trained. This will reduce operational risk, downtime and maximise return on asset investment.