Simrad PI50 Sistema de Monitorización de Capturas
El Simrad PI50 es un avanzado sistema de monitorización de captura en tiempo real para equipos de arrastre y de cerco.
Nuevo interfaz de usuario
Menús multi-idiomático
PI50: nuevo Receptor de Sensores PI
Innovadora tecnología
Software apto para ordenadores convencionales
Pantallas estándar a color
Acepta presentación en pantallas (16:9)
Se encuentra disponible una gran selección de sensores inalámbricos para el sistema Simrad PI50. Colocados en la red (tanto de arrastre como de cerco) le ofrecerán un valiosa y precisa información del arte, su comportamiento y su entorno.
Esta captura de pantalla (de un entorno simulado) muestra al Simrad PI50 configurado para trabajar con varios sensores: Profundidad, Alcance, Altura, Temperatura y Geometría. Dígitos grandes y claros le ofrecen información inmediata de la red. También puede abrir cualquier gráfico para ver los últimos movimientos de los sensores seleccionados.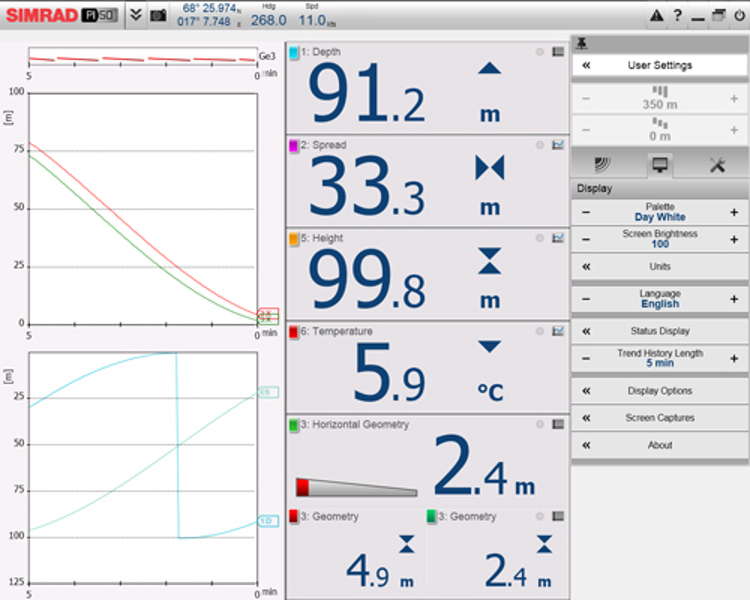 Servicios y soporte
24/7 Technical support

Our 24/7 technical support team is there to help at any time, day or night, wherever your vessel is.

Conversions, retrofit and refit

We understand the importance of having the right parts, available in the right place, at the right time.

Training

Ensure that your crew is properly and thoroughly trained. This will reduce operational risk, downtime and maximise return on asset investment.