Teekay Gas
Knowing you, Knowing ME-GI
Launched in September 2015, Teekay's newest LNG carrier Creole Spirit has the potential to save the company $20,000 on the cost of fuel every day. Alongside companion ship Oak Spirit, soon to be delivered from Daewoo Shipbuilding & Marine Engineering (DSME) of South Korea, and seven more identical vessels on order, the annual fuel saving could reach $65 million. Of course, it's unlikely that all nine vessels would sail 365 days a year. But Teekay Gas is pretty busy.
Gunvor Hatling Midtbø

Vice President, Communications Integrated training: Teekay Gas' KONGSBERG ship-handling simulator is next door to the new ME-GI training facility. The bridge features a K-Chief 700 ME-GI console that will be connected to the ME-GI trainer so what happens there, will affect what happens on the bridge. Captain John Williams at the opening of Teekay's Glasgow training centre.
"ONE OF THE GREAT THINGS ABOUT THE TRAINER IS THAT IT'S AN EXACT MIRROR."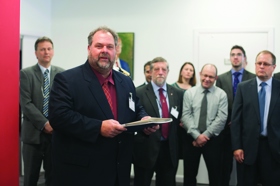 Captain John Williams Training Centre Manager, Teekay Gas