Offshore vessel ship designs
KONGSBERG offers a range of ship designs for the offshore sector from its well known UT design family, launched in the mid 1970s. The range includes: platform supply vessels, anchor-handling/tug/supply vessels, multipurpose service vessels and other specialised vessels.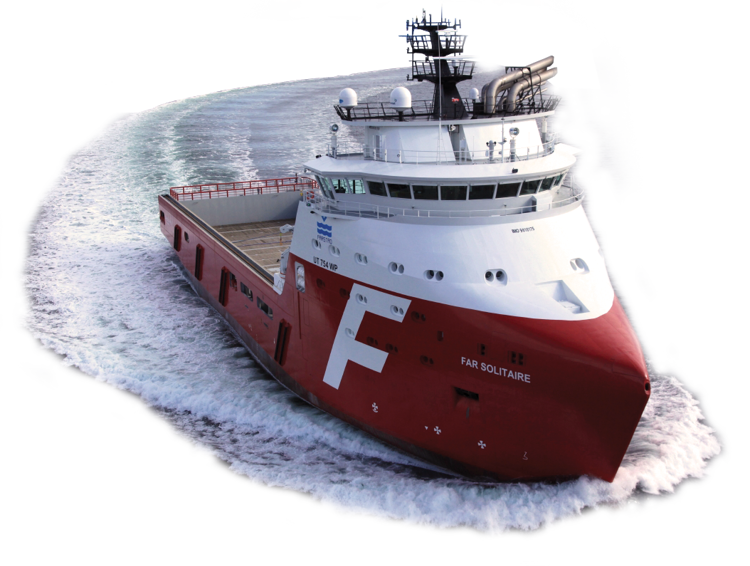 CASE STUDY
Increasing size, speed and safety
With its very large capacity for carrying hazardous and noxious liquid cargo and wave-piercing bow design, the UT 754 WP is a new direction for offshore supply vessels.
Background
The first of our advanced UT 754 WP vessels, featuring our wave-piercing bow, has entered service with Farstad Shipping. Developed by working closely with Farstad and the classification society DNV, the UT 754 WP has been designed specifically to meet the needs of offshore vessels carrying hazardous and noxious liquid cargo.
As recent rule changes mean that drilling mud and brine are now also classified as noxious, the vessels 1,600m3 capacity for such material makes it ideal for carrying large quantities of noxious liquid while complying with the IMO's rules. Among many other features such as multi-purpose rectangular and cylindrical tanks and a Dual Draglink Cargo Rail, the vessel's most striking feature is its wave-piercing bow. Able to pierce through waves in extreme conditions while maintaining constant speed, it reduces fuel consumption and enhances safety.
"Our wave-piercing bow designs have been specifically developed for the challenging conditions in which our customers operate."
Svein Kleven, Chief Design Manager, Ship Design
Challenge
The average North Sea boat load of drilling mud and brine is 1,000 to 1,200m3. So, when the IMO changed the rules to classify mud and brine as hazardous or noxious cargo, usually limited to just 800m3, a new solution was needed to allow the desired amount to be carried per trip while still complying with the rules.
Solution
The UT 754 WP is that solution. It's not a chemical tanker, but the vessel meets the damage stability rules and ventilation requirements for chemical tankers, together with other design features, making it approved for carrying more than 1,600m3 of noxious liquids. And with its wave-piercing bow design, it delivers optimum sea-keeping, improved comfort and reduced fuel consumption.