Advanced Segment Protection
Energy Solutions is a collection of general, standardized electrical power system architectures, designed to provide customers in the marine segment with integrated digital, reliable and cost-effective energy solutions.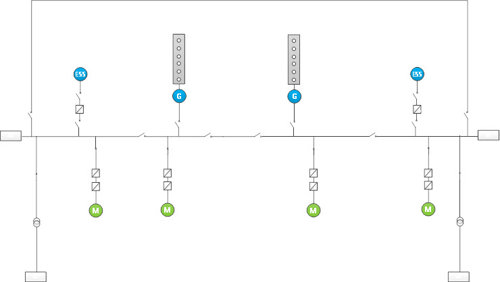 Advanced Segment Protection Design
Applicable to

all Solution variants: AC (Hybrid) Solution, DC (Hybrid) Solution, Dual (Hybrid) Solution and ZERO Solution

Closed bus-ties and ring configurations

Advanced short circuit and earth fault protection system related to circuit breakers, fuses, high speed switch/breakers, etc.

Hidden failures considerations

Fault ride through

Advanced producer protection and supervision for paralleled producers

Harmonics and inrush considerations
Servicios y soporte
24/7 Technical support

Our 24/7 technical support team is there to help at any time, day or night, wherever your vessel is.

Conversions, retrofit and refit

We understand the importance of having the right parts, available in the right place, at the right time.

Training

Ensure that your crew is properly and thoroughly trained. This will reduce operational risk, downtime and maximise return on asset investment.