Simrad 38-7
Simrad 38-7 er en 38 kHz enkeltstråle svinger
Simrad 38-7 er en stor svinger med enkel stråle. Den er bygget opp av 88 "Tonpilz" elementer. Strålen er relativt smal, og kombinert med lav fekvens og høy effekt gir dette svingeren lang rekkevidde.
Typiske bruksområder
Fiskeleting
Havbunnskartlegging
Nøkkelspesifikasjoner
Merk at disse spesifikasjonene kan endres uten forutgående varsel. For komplette spesifikasjoner, se svingerens dataark.
Frekvens: 38 kHz
Sirkulær strålebredde: 7 ±1 degrees
Maksimal tilført pulseffekt: 4000 W
Maksimal installasjonsdybde: 50 m
Kabellengde: 20 m
Vekt uten kabel: 40 kg
Fysiske mål:

Diameter: 480 mm
Høyde: 150 mm
Diameter: 480 mm
Høyde: 150 mm
Ordrenummer
Svinger: KSV-082776
Støtteskinne: 099-206575 (*)
Monteringsring: 499-074076 (*)
(*) Disse gjenstandene må bestilles separat.
Hvordan hente ut DWG filer
Så fremt formatene finnes er hver tegning gjort tilgjengelig på både PDF og DWG format. Når DWG finnes, er denne filen lagt inn i PDF-filen som et vedlegg.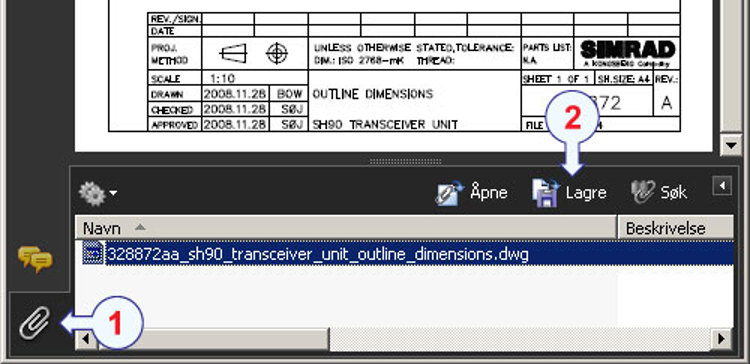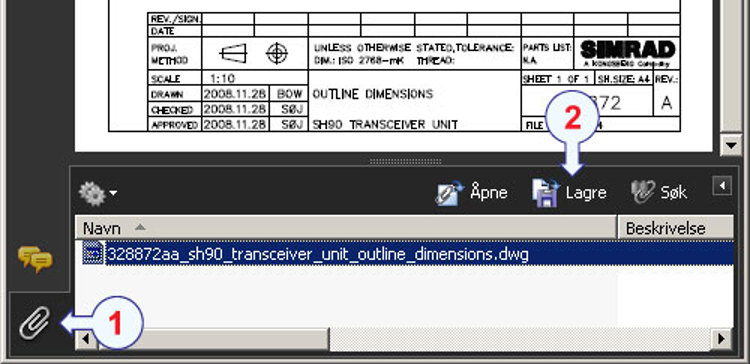 Tjenester og support
24/7 Technical support

Our 24/7 technical support team is there to help at any time, day or night, wherever your vessel is.

Conversions, retrofit and refit

We understand the importance of having the right parts, available in the right place, at the right time.

Training

Ensure that your crew is properly and thoroughly trained. This will reduce operational risk, downtime and maximise return on asset investment.