Simrad ES70 Profesjonelt ekkolodd for fiskeleting
Simrad ES70 er et nøyaktig og profesjonelt "single"- og "split-beam" ekkolodd for effektiv fiskeleting.
Topp moderne ekkolodd for profesjonelle og halvprofesjonelle brukere
Høy oppløsning - høy nøyaktighet
Zoomfunksjon med automatisk visning av biomasse
Bunnhardhet
Innovativ skjermforsterkningsfunksjon
Sømløs automatisk dybderegulering
Automatisk innstilling av pulslengde
Ubegrenset antall personlige profiler med favorittinnstillinger
Rask og enkel i bruk
Forbedret bunndeteksjon
24 timers historikk på skjermen
Menysystem på flere språk
Opp til seks frekvenser kan vises samtidig på skjermen
Forberedt for brede skjermer (16:9)
Dette ekkogrammet fra et ES70 ekkolodd er laget ved hjelp av en Simrad ES38 "split-beam" svinger. En del av ekkogrammet har blitt forstørret. Annen relevant informasjon er hentet frem ved hjelp av to "informasjonspaneler". Disse viser fiskens posisjon og størrelsesfordeling.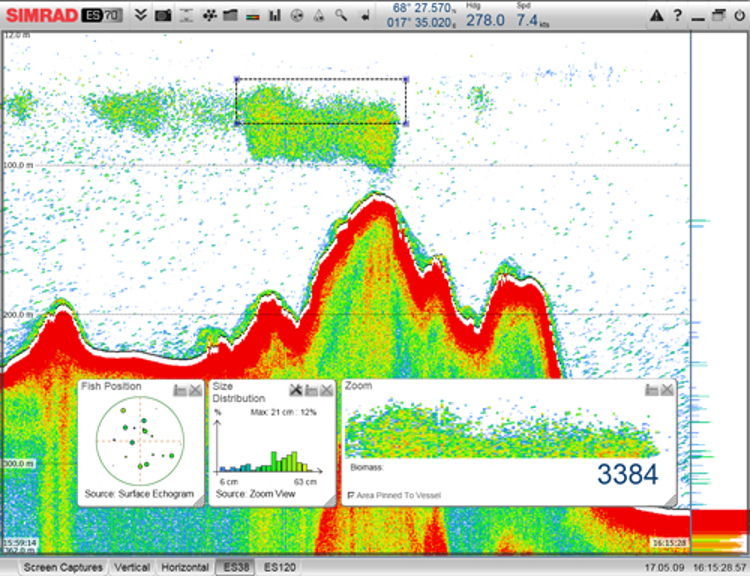 Tjenester og support
24/7 Technical support

Our 24/7 technical support team is there to help at any time, day or night, wherever your vessel is.

CONVERSIONS, RETROFIT AND REFIT

We understand the importance of having the right parts, available in the right place, at the right time.

Training

Ensure that your crew is properly and thoroughly trained. This will reduce operational risk, downtime and maximise return on asset investment.