Simrad ES38-18/200-18C
The Simrad ES38-18/200-18C is a two-in-one combi transducer. It is designed for fishery and fishery research applications.
The transducer contains a 38 kHz split beam transducer as well as a 200 kHz single beam transducer. Both offer 18 degrees beamwidth at their nominal operational frequencies. The split beam transducer is designed with three separate sectors.
The transducer is streamlined, and designed to be mounted under the hull. Flush mounting is not recommended.
A fairing must be designed to fit between the top of the transducer surface and the hull. The fairing shall offer the necessary inclination angle, and provide space for the cable service loop.
The fairing must cover the entire top surface of the transducer house. Supporting only at each end of the transducer, may cause damage to the transducer if subjected to slamming.
The transducer housing is provided with two holes for mounting bolts. These shall penetrate the transducer and fasten it to the fairing.
The transducer cable penetrates the hull using a stuffing tube and a cable gland.
Technical specifications
Download the Simrad ES38-18/200-18C data sheet.
Order information
To order the transducer, or any of the optional items provided with it, contact your local dealer. If you do not have a regular dealer, a list of all our distributors and dealers can be found on this website. Your dealer will also be able to help you with a detailed quotation including price and delivery information.
Product
Order number
In the box
Simrad ES38-18/200-18C
398445
Transducer with open ended cable
Stuffing tube
Cable gland
Documents
Simrad ES38-18/200-18C
430171
Transducer with 8-pin connector
Documents
Optional items
The order number for the transducer cable is included in case the cable fitted to the transducer is too short.
| Product | Order number | In the box |
| --- | --- | --- |
| Transducer cable | 382189 | Transducer cable |
How to access the DWG files
Whenever available, each drawing is provided on both PDF and DWGformats. When applicable, the DWG version of the drawing is included in the PDF file as an attachment.
Open the PDF file in the normal manner.
Observe the "Attachment" icon in the lower left corner.
Click the icon to open the list of attachments.
Click on the DWG file provided, and select required action on the menu above the list.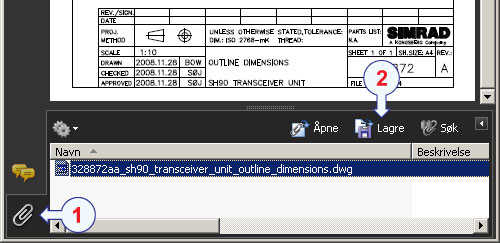 Attachement icon
Menu: Open or save the attachment file
Services and support
24/7 Technical support

Our 24/7 technical support team is there to help at any time, day or night, wherever your vessel is.

Contact us:

Spares

We understand the importance of having the right parts, available in the right place, at the right time.

Training

Ensure that your crew is properly and thoroughly trained. This will reduce operational risk, downtime and maximise return on asset investment.