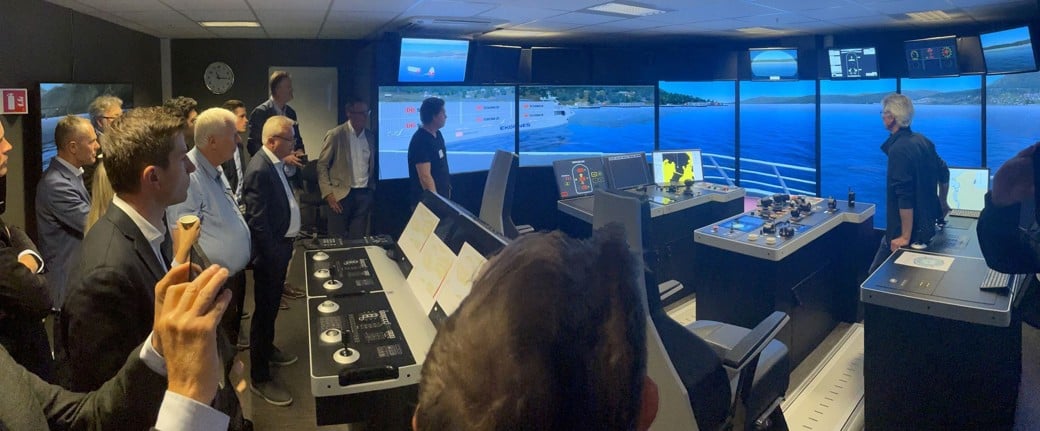 KM demonstrates Ekornes/DB Schenker autonomous vessel concept
On 13 June, Kongsberg Maritime executed an autonomous vessel concept demonstration in a K-Sim full mission simulator as part of the feasibility study contract between Kongsberg Maritime, Ekornes and DB Schenker.
KM held the demonstration at its Grilstad training center in Trondheim, Norway. Prior to the demonstration, Captain Gunnar Gudmundseth and his team had spent several days to sail the vessel on different routes and weather conditions to capture relevant data, such as energy consumption, time, speed, and navigational challenges in the operation area.
"One of the challenges given to us by the customer is a request for the vessel to go through the narrow strait of Vegsundet", Gunnar explains. "Our simulations show that this is very challenging due to the shallow water and complex navigation required in the area. We also found that due to the low speed required to pass the area safely, you'll spend more time, but less energy to pass through the strait than to go around Breisundet," Gunnar continues.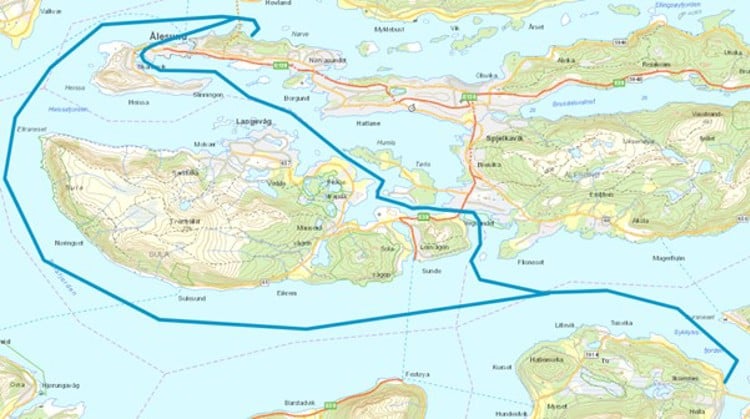 Many people are TALKING about autonomy. KONGSBERG is DOING it.​
This was one of several interesting findings as part of the feasibility study contract that Kongsberg Maritime have with Ekornes and DB Schenker. The purpose of the contract is to define a fully autonomous vessel concept to transport furniture from the Ekornes factory quay to Ålesund Harbour in Norway. Kongsberg Maritime has followed the Norwegian Maritime Authorities Circular 12-2020 process for autonomous vessels and has now completed a concept design of the vessel.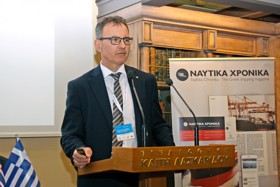 "The Customer has been very clear that this vessel shall be fully autonomous from day 1 meaning there won't be any bridge on this vessel. This adds significant complexity related to rules, regulations, and approvals. Together with the customer, we've defined this project to be a 1st follower after our other pioneer projects such as ASKO and Yara Birkeland, and we've demonstrated safe and mature autonomy through the testing program that they're executing." Lars Kristian Moen, Sales Manager Kongsberg Maritime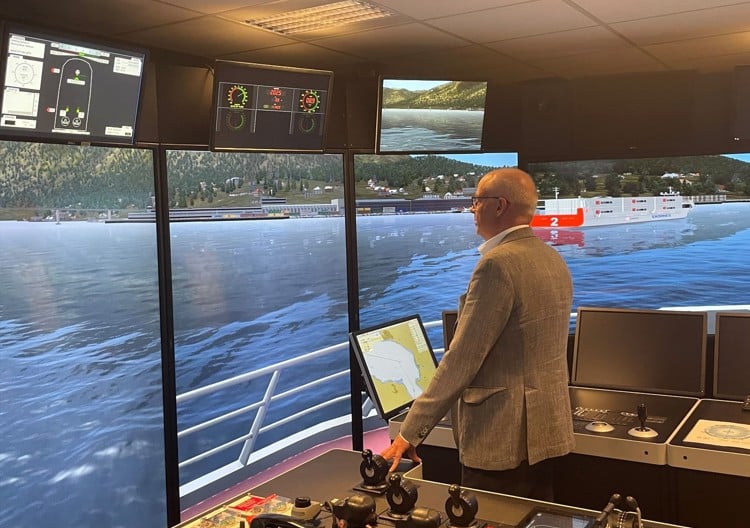 Close cooperation with KM
Atle Kristiansen, head of Key Accounts in DB Schenker explains that DB Schenker as a major global logistics operator is always looking for ways to make their operation more environmentally friendly.
"We see a big change in the values that've been brought into our company. Our employees and colleagues require that we take steps to become greener. We're moving a significant part of our transport from road to sea, and we're very lucky to work with visionary customers like Ekornes who want to explore this autonomous and electrical vessel concept with us. One of the big challenges is to keep the costs down. Therefore, we need to explore the use of autonomous vessels also in DB Schenker." Atle explains "Innovation is part of DB Schenker's DNA. That's why we have been in existence for over 150 years, evolving alongside leading partners and customers".
About KM's Grilstad Training Center
3 full mission real time ship simulators and 1 crane simulator
Established mainly for training certification of operations related to DP, offshore loading, ship to ship lightering, ship maneuvering, crane operation and rig and vessel stability
Utilized by KM Advisory services also for feasibility studies, de-risking of operations and other support to internal and external customers
For further information, please contact: