SUSTAINABILITY IS A GOOD CHOICE FOR YOUR BUSINESS
Container Shipping
KONGSBERG can help you choose the best integrated solutions for your vessels, establishing and implementing effective short- and long-term strategies for efficient, sustainable operation.
ADVANCING THE CONTAINER INDUSTRY
The modern world cannot function without international shipping. But moving freight has a significant impact on the planet.
The transportation sector as a whole is taking action to lower its environmental footprint, and the container shipping industry is part of this change. New regulations, teamed with a desire for greener operations, are driving this transformation: with KONGSBERG, this journey towards sustainable operations is economically feasible – even beneficial.
"NEW, INTEGRATED SOLUTIONS FROM KONGSBERG MARITIME TAKE INTO CONSIDERATION FUTURE EMISSIONS REGULATIONS TO ENSURE AN OPTIMUM BALANCE BETWEEN CAPEX AND OPEX"
Container Solutions
Nowhere in shipping is competition so fierce as the container segment, a key enabler of global product movement and world trade. New emission regulations drives cost in a already challenging market with tight margins. Any player that can improve efficiency, create more efficient fleet management solutions and reduce operating expenditure can achieve a crucial competitive advantage.
Fully integrated solutions span bridge, propulsion, navigation, planning, reporting and maintenance systems. This, plus real-time monitoring and management of parts, energy, power and propulsion, secures long-term operational and overall fleet management performance.
LETTING DIGITAL TECHNOLOGIES DO THE HEAVY LIFTING
Digitalisation is the key to efficiency, safety and success in the container vessels of tomorrow – and today
We're here to help and answer any question you might have. Please get in touch and our expert team will answer all your questions. We look forward to hearing from you!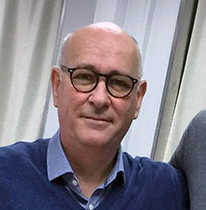 LEIF KRISTIAN WEUM,
Senior Sales Manager, Kongsberg Maritime